Dubai, where do I begin! This state was only a village a decade ago and now were talking about a place known around the world!
Nothing is big enough for Dubai, you feel the city is made out of childhood dreams. Large aquariums, the tallest building in the world, skiing in a mall, fountains, tigers as a pet…. I can make a long list.
But let me tell you what we did and where we stayed. I will also make a Dubai with kids, you may expect  later this week ;-)
We flew with Emirates, great service, comfortable seatings and off course there multimedia system: you can see movies play games, great to entertain yourself and your kids during a long flight.
Our first hotel: The palace downtown.
We immediately felt at home after the warm welcome of the friendly staff.
The hotel is located in the centre of Dubai, a superior location to explore the city.
Traditional Arabian design made contemporary by using calming colors.  Marble, dark wood and heigh seilings to complete the luxurious feeling. 
We stayed at the diplomatic suite: 105 sq metres of Arabian opulence., seperate livingroom, Spacious bedroom, bathroom and two private balconies with a view on the Burj Khalifa and the Burj lake. Not bad to begin with I think? 
wearing: SS16 Elisabetta franchi top and 7 for all Mankind denim.
Let's see the city! Or better the Dubai mall and souks, this is unbelievably big. You can walk around for days if you want to see it all. They have everything you can imagin for big and small budgets from Dior and Chanel to Zara. 
In the Dubai mall you also have the enterance to go to the top of the Burj Khalifa, this is the tallest building in te world. It is an obligation when in Dubai to go to the top of it and to enjoy the impressive view over Dubai. 
Wearing: SS16 Vince top and 7 for all mankind denim. 
The Palace downtown features different restaurants but I prefer Thiptara ,Thai Cuisine made by a belgian Chef, I can't remember his name to be honest. But he worked for "Het hof Van Cleve" and Wout Bru, do I need to say more?  From this restaurant you have an amazing view over  the Fountains of the Burj Lake. 
We had a great stay at this beautiful hotel, the warm design, the friendly staff and location, the three reasons why I would recommend this hoteL  OH forgot to say the beds are heavenly, like sleeping on a cloud!
Wearing: SS16 Missoni Dress.
With special thanks to the manager Mohammed for the exquisit and personal service! Thanks for having us. 
Wearing: SS16 Elisabetta Franchi top and 7 for all mankind denim. Sunday Somewhere sunglasses
Arriving in style!
We made a helicopter flight above Dubai to arrive at the famous Atlantis the palm resort. 
Wearing: SS16 Fendi sunglasses and #Nanouk Rock Roll Collar prototype. 
This is something completely different! Again unbelievably big, to give you an idea this hotel has 23 awardwinning restaurants!
It is impressive and pressuring with all those people around you. 
For interior inspiration you don't have to go to The Atlantis, its really kitsch. But when you have kids you must visit or stay here at least once. Why? I will tell you in my next blogpost. Let me tell you whats nice for us adults!
You have 23  awardwinning restaurants you can choose from  but Nobu restaurant is my favorite:  this famous restaurant is a resident in this hotel and a must go when in The Atlantis. One night we went to The one and only royal mirage hotel gorgeous hotel by the way to have diner at Eauzone a trendy restaurant by the poolside of the hotel. Mysterious and exotic atmosphere, friendly staff and good food. Worth a visit.
The spa and fitness area is modern arabic and not so kitsch. Its peaceful and luxurious. Good to know: you can't do this with your partner there is a Men and women spa.
Swimming with the dolphins maybe sounds a little bit childisch but was one of the things I really wanted to do and this is also one of the many things you can do in The Atlantis resort. It was an unforgettable experience to do with my family.
Wearing: SS16 NIKKIE top and DIor Sunglasses.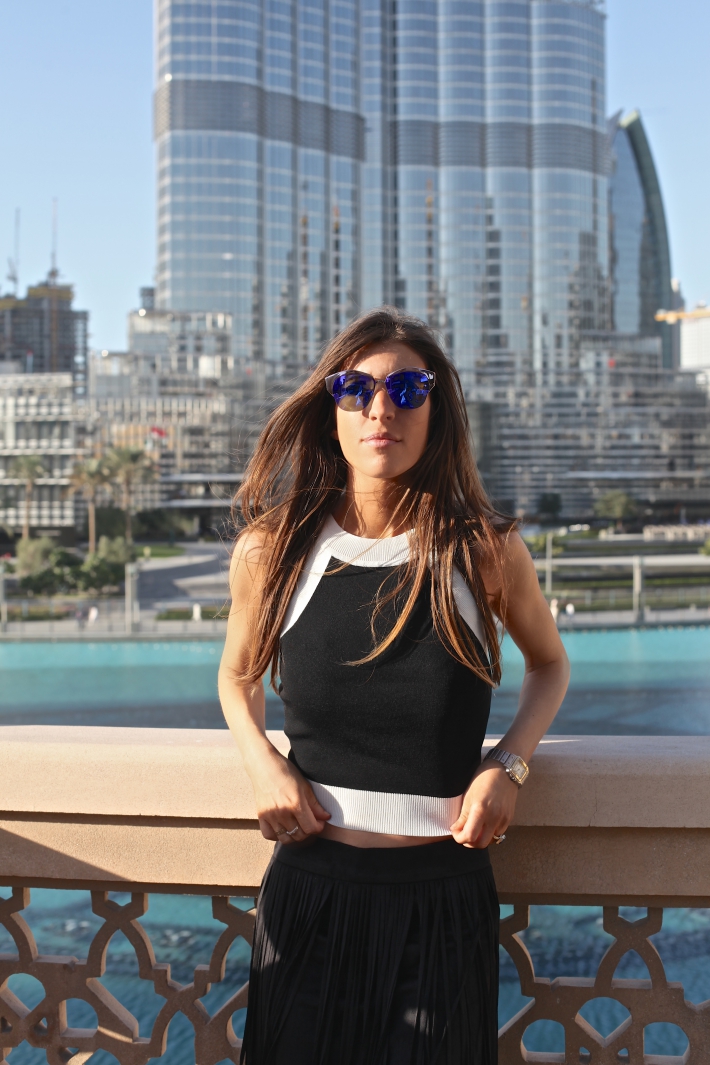 I had a great stay and an unforgetable journey but as an interior design and history lover i must confess Dubai is not my cup of tea. Dubai you have to see it to believe it, go at least once and indulge yourself in all the extravaganza that Dubai is.
Special Thanks to: 
Anthony Boelaert Photography: www.anthonyboelaert.be
Fashion club 70: www.fashionclub70.be
Optiek Lammerant: www.optieklammerant.be
The palace down town: www.theaddress.com
Alpha tours dubai: www.alphatoursdubai.com
Atlantis The Palm Hotel: www.atlantisthepalm.com