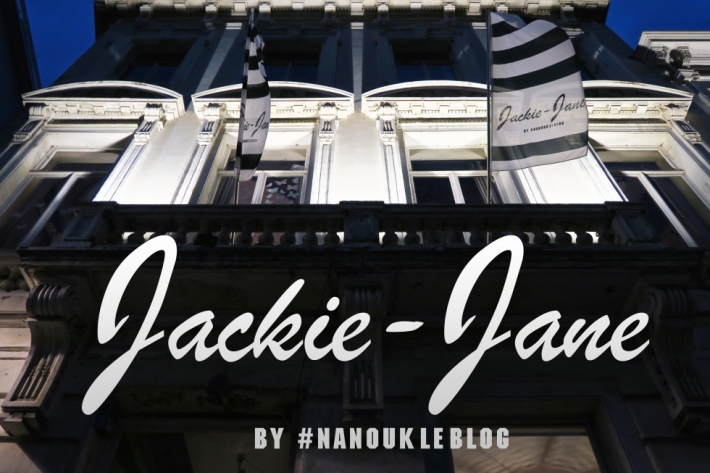 The City edition of Jackie Jane by nanoukleblog Conceptstore is a fact.
We landed our concept in the most beautiful city of Europe: Ghent.
For the Ghent edition I partnered up with Belgian Fashiondesigner Kim Stumpf. Together we selected different entrepreneurs to bring the Jackie Jane vibe to the city.
With our concept we want to support young entrepreneurs and give our customers a full experience with the focus on Handmade-Belgian design – food – drinks - music and architecture.
It was love at first sight with our new location:  A neoclassical townhouse on the corner of Predikherenlei. It was build in the second half of the 19th century. Between 1955 en 1964 Belgiums most famous writer Hugo Claus lived here. In that time Claus was a member of the COBRA movement of Karel Appel. You can say its a house with a soul, you can feel it in the air! 
You can visit us from wednesday till saturday from 10.30 AM - 6.30 PM. 
The Pharmacy experimental will be open on the same days from 4PM  - 1PM
Come with me in my new story:
#NANOUK:
In my room you will find a selection of vintage handbags and accessories which are normally only for sale on my webshop www.preloved.be. Together with my own streetwear brand #NANOUK with sweaters and T's for women, men and kids.
The friends I invited in my room:
www.pinnedbyk.com : shoe fringes, the perfect accessoiries to spice up your sneakers.
www.miekedierckx.be: The designs of Belgian accessory designer Mieke Dierckx are also for sale in the #nanouk room.
www.thedesignstudiohawarden.co.uk: Yes, its true im the only reseller in Belgium for the famous and wanted TDS bomberjackets. Every other week you will find new designs of the mother daughter duo Pattinson in our store. 
Kim Stumpf:
My partner in crime for this edition: Kim Stumpf is a Belgian fashion designer, graduated from La Cambre in 2007. She built up experience at Haider Ackermann, Bruno Pieters, Vivienne Westwood, Natan and visual artist Hans Op de Beeck. The KIMSTUMPF-label stands for pureness, timeless, uniqueness and architectural forms combined with a second skin feeling.
Her designs are made in Belgium, using artisanal methods.
Kim Stumpf works with high quality materials such as 100% Italian wool, Super kid mohair, Astrakan mohair, Lamb suede, Loden, Alpaca, Angora...
Her silhouettes were already published in Vogue Italia, Vogue UK, Elle and many others.
You can shop her AW15 collection KOYAANISQATSI in our shop.
www.kimstumpf.com
https://www.facebook.com/kimstumpfbelgium
@kimstumpf_knits
#kimstumpf_knits
21 12:
21-12 is a contemporary jewellery label designed by jewellery designer and goldsmith Tine SIbbens. She combines the ancient craftmanship of goldsmithing and innovative techniques and materials. This results in a progressive collection of elegant jewellery.
Every piece of the collection can be tailormade using only the highest Quality of precious metals.
www.21-12.be
https://www.facebook.com/21-12-Jewellery-design
@21_12_jewellerydesign
#twentyonetwelve
Elisa Kookt:
A real "gantoise" Els Sirejacobs makes delicious and healthy meals with flavours from all over the world. You can order her Granola or Elisa to cook for you on her website www.elisakookt.be ! In Jackie Jane you can only buy the granola, Els is not for sale ;-)
www.elisakookt.be
https://www.facebook.com/Elisa-Kookt-539927286150811/
@elisakookt
#elisakookt
Hungry Hugo:
A new concept by frederique Jonkheere with a little wink to Hugo claus;-).
Hungry Hugo brings handmade sweets of the finest quality: chocolates, macaronnes, melowcakes and candy. Drink a cup of coffee with a delicious pie in our coffee cornes, enjoy the view, the vibe and the history of this ancient house!
www.hungryhugo.be
https://www.facebook.com/Hungry-Hugo
@hungry.hugo
#hungryhugo
Robert Van Dromme:
As an artist (painter and photographer) Robert Van Dromme finds inspiration in various stories from historical contexts. Often these stories are sitiuated in parallel worlds. Memories from these different worlds are current image constructions. No reconstructions.
He usually relies on film stills own photographs or images from the Internet. For example, for the series Faces: people show themselves through profile pictures on Facebook, as they like to be seen by others. This data is recovered and used for a new image structure, which of course looks different.
Robert Van Dromme exhibits in Belgium and abroad. In group exhibitions and projects, among others. along with Joseph Beuys, Panamarenko, Luc Tuymans, Fred Bervoets, Richard Buckminster Fuller, etc.
http://www.artactuel.com/
#robertvandromme
Mister monkey and misses Butterfly:
Young Parents Sophie Van Gucht and Thijs Wintein have a passion for beautiful things and quality. Because they didn't found many stores for kids that suited their needs and personality they started their own webshop: Mister monkey and Misses Butterfly. On the webshop and now also in Jackie Jane  you find things for fabulous kids: coolness, unique prints and good quality!
www.monkeyandbutterfly.be
https://www.facebook.com/MisterMonkeyandMissesButterfly
@monkeyandbutterfly
#monkeyandbutterfly
Drawn by mommy:
One of my close friends Debby De Waele mommy of three launches her own collection of hand painted drawings in Jackie Jane. You can buy her drawings on wall stickers, beddings, pyjama's and many more. This mommy can draw your personalized birth card or invitations on request. Come to Jackie Jane to meet this life lover, big dreamer and artist.
https://www.facebook.com/Drawnbymommy
@drawnbymommy
#drawnbymommy
Annapops:
Anna Pops has the most original kids shoe collection untill size 40. Shoe heaven for cool kids and parents with great taste. They focus on color, originality and quality. In Jackie Jane you can see and buy a selection of the Anna Pops collection. For more shoe-love… go to:
www.annapops.be
https://www.facebook.com/ANNA.POPS.hippe.kinderschoenen
@annapops_kidsshoes
#annapops
Elegnano:
Designer Katrien Herdewyn, graduated in 2010 as a civil engineer with a master's degree in Nanoscience and Nanotechnology at the University of Leuven. In 2013 she was nominated for the Global Footwear Design Award. In 2014 she became the only Belgian finalist in the prestigious Muuse x Vogue Talents - Young Vision Award Accessories. In November 2014 Katrien started her own commercial shoe label: Elegnano.
Elegnano is literally, and figuratively a fusion of elegance and nanotechnology.
www.elegnano.com
https://www.facebook.com/elegnano
@elegnano
#elegnano
Mofelito Paperito:
Mofelito Paperito is a webshop dedicated to all kinds of paper goods. Sofie, the owner, has always had a fascination for anything to do with paper. She carefully selects unique products from around the globe. A trip to Japan especially inspired her to build up her collection. Products sold at Mofelito are of high quality, often handmade and manufactured on a small scale. You can buy Sofie's selection of stationery online or at Jackie Jane's: from notebooks, washi tape, wrapping paper to gift cards, notepads and pens, and much more. 
www.mofelitopaperito.com
https://www.facebook.com/mofelitopaperito
#mofelitopaperito
ParisDotCom:
Bohemian inspired jewelry and faux bijoux by Paris dot com. Affordable pieces to treat your self or a friend.
www.parisdotcom.be
@parisdotcom
#parisdotcom
The Pharmacy experimental:
Really? Do I have to introduce this crazy family? The Van Ongevalle Clan brings the exclusive cocktailbar The pharmacy to Jackie Jane under the name THE PHARMACY EXPERIMENTAL. Pass by to collect your potion, made by the talented Van Ongevalle family. 
www. The-pharmacy.be
https://www.facebook.com/pharmacyknokke
@hannah_thepharmacy
#thepharmacyknokke
Sponsoring:
DARK:
DARK provides Jacky Jane By Nanouk Le blog of designer lighting. DARK a top Belgian label founded by Marnick Smessaert in 2000, is known for their innovative and creative lighting. DARK products are distributed in more than 40 countries and won 72 internatoional design awards? This year they have received the interior innovation award for the fixture Znow not coincidentally designed by my husband interior architect Anthony Boelaert ;-) Dark will throw this year a different approach with regard to future fixtures, the style of Anthony fits perfectly in with the new route they will follow, and here there are already several Anthony Boelaert fixtures ready for production. Keep your eyes open!
www.dark.be
https://www.facebook.com/wealllovetheDARK
@DARK.BE
#DARK
Special thanks to:
My husband Anthony Boelaert, partner in live and dreams, father of my children, interior architect ,co-founder of Jackie Jane! Thank you for all the support, creative ideas, advice and all the beautiful pictures you made. Love you X