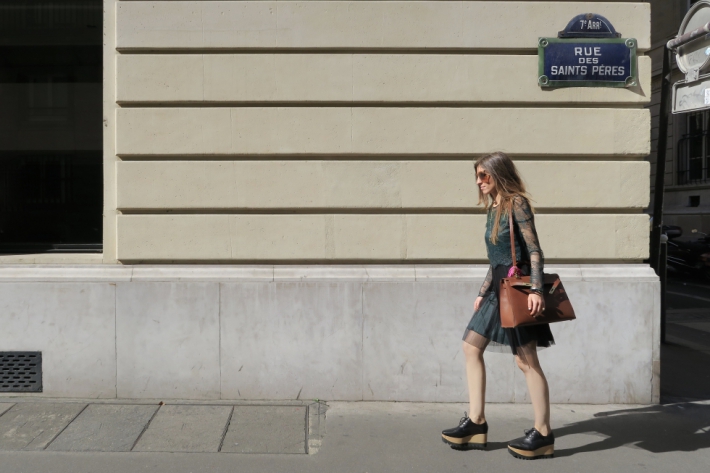 When we arrived at the hotel, they welcomed me with a handful of envelopes.
All invitations for fashionweek of brands who asked for my address in Paris.
I must say I like Parisian Post better then the Belgian kind.  ;-)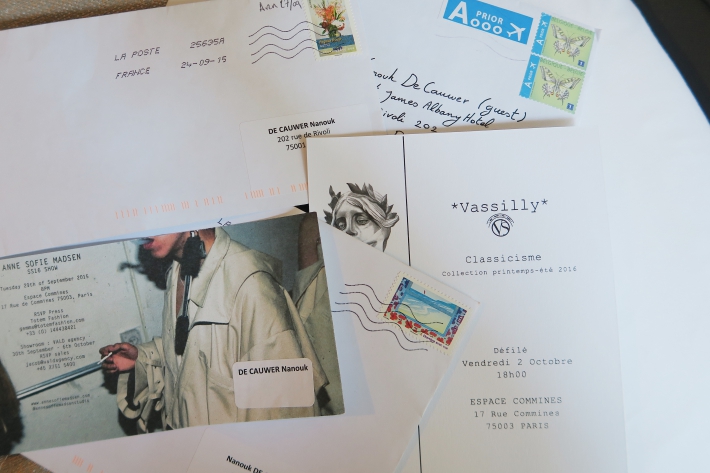 I wasn't able to make it to all shows or showrooms because I was in Paris with my
family and wanted some quality time as well. 
So here a little recap of fashionweek and other nice places I went. Later this week I will dedicate a blog for the mom's among us: Paris with kids.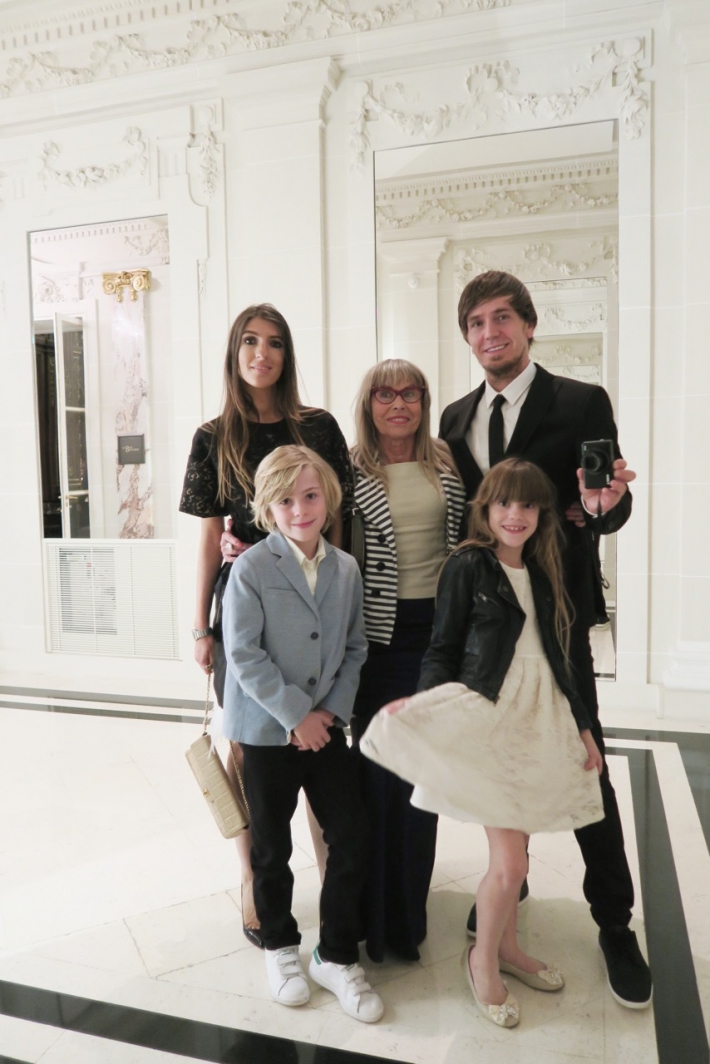 First some relaxing before we begin this hectic story.
Rooftop cocktails at The Pininsula:
Rooftop with a view over Paris = Magic. L'oiseau blanc the rooftop bar and restaurant of The Pininsula brought us the magic in luxury: soft and comfy chairs, exquisite service and food. They give every client the feeling you are the most important
My outfit: N21 dress (Wagram Luxury, knokke) www.wagramluxury.be
Shoes: Louboutin 
Next day: Early wake up call, we had a photoshoot for #nanouk streetwear with gorgeous models. We didn't use make up, we wanted to show the real look of the models.
We chose the Mon pull blanc, Too french too handle and the mermaidsweater, the models loved the designs and the quality of our sweaters. As we speak im busy with making some new funny and fashionable designs for a new flash collection. Soon available online and in our new Jackie Jane store. 
My outfit: 
Sweater: N21 ( Wagram Luxury, Knokke) www.wagramluxury.be
Jeans: H&M 
Shoes: Morobé ( www.morobeshoes.com)
Handbag: Vintage Hermès Kelly ( www.preloved.be)
Ann Sofie Madsen:
Ann Sofie Madsen is a Danish designer trained by John Galliano in Paris and was Junior designer for Alexander McQueen. In 2011 she started her own label. Her point of view on fashion is built on contrasts. The woman she keeps in mind for her design has to be both inviting and out of reach. I like that thougt.
The Ann Sofie Madsen show was in an industrial space in Le marais, white walls and concrete floors. I liked the denim silhouettes and the details that made me think of jarretels. 
My outfit: 
Sunglasses: Fendi (Optiek Lammerant)
Dress: Alexander McQueen (Wagram Luxury, Knokke)
Shoes: Morobé shoes (www.morobeshoes.com) 
Handbag: vintage Hermès Kelly (www.preloved.be) 
We had to wait for a  long time until the show really began. I was starving but luckily my husband (always full of surprises) already reserved a table at the gastronomic restaurant of Le Meurice. You know its an expensive restaurant when your handbag is getting a chair. The 18th century architecture made me feel like a princess, haha. The grandeur, service and food were unbelievable. We had the menu and I must say that was a little bit too much food, me and my husband are chocoholics and when they came with home made pralines by the chef Alain Ducasse, we said no. Really! No worries they packed them in a cute little bag to take home.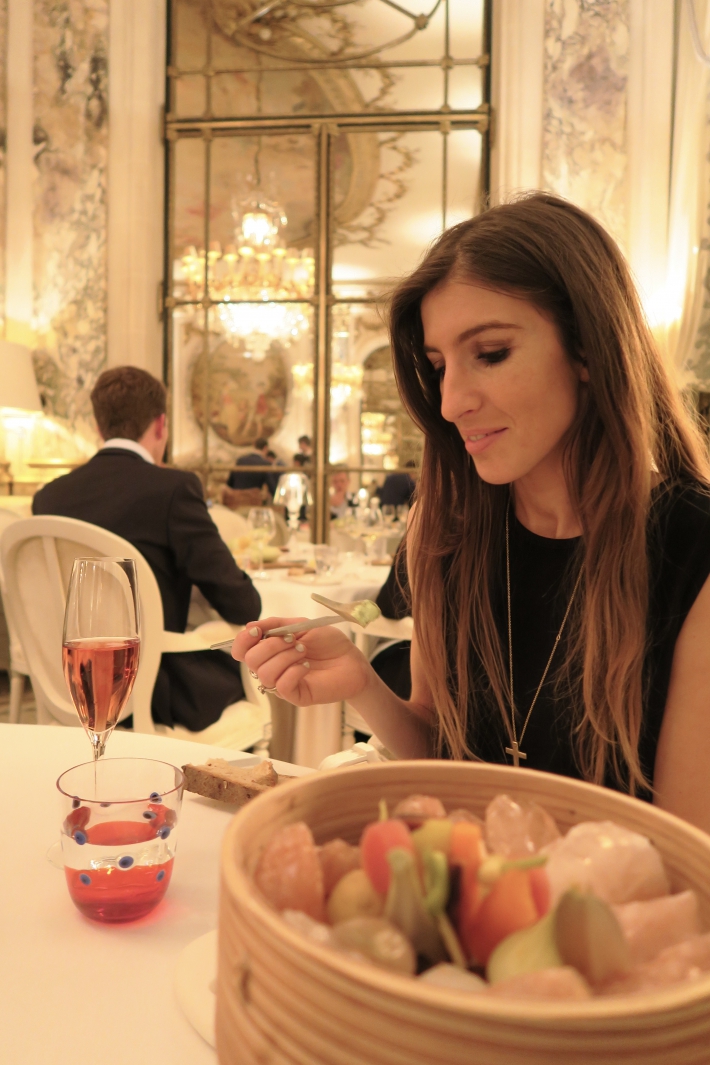 The next day a dream came true I attended the Dries Van Noten show. Van Noten is a name we Belgians may be proud of. Every season he knows how to surprise us whit his point of view on fashion. He doesn't follow trends or uses the "it" collor of the moment, he creates extraordinary pieces, together they bring a beautiful story. I saw intriguing colors like purple, fuschia, ocher, watermelon on silhouettes that made me think of mid war Hollywood galore. 
Lunch at la Société:
I lOVE this place. Its the definition of chic and elegant. The interior is classy metropolitan, the staff are all stylisch and charismatic. But not only the staff, the guests are all destinguished people with great sense of style.  The table Next to us was nobody less thn Princess Charlote Casiraghi of Monaco, OMG what a beautiful women. I always was a fan of her style and look but didn't dare to ask for a picture. Enough Princess talk! The food in La Société is very classic but good, the quality of their products are outstandig! The prices are normal Parisian, nothing exhuberant. Reservation is a must.
Showroom Frency & Mercury
We visited the Frency & Mercury showroom, it's a Japanese eyewear brand. They bring contemporary and distinctive designs.
In Belgium you can find it @ Philip Hoet optiek: Leopold de Waelplaats 12, 2000 Antwerpen.
My favorit design: